Concrete Sealing in Burlington, KY
Your concrete is an investment. Since concrete is so tough, you pour your driveway or patio with the expectation that it will last. However, concrete is, contrary to popular belief, not indestructible, and it takes a beating when the weather outside is frightful. If you want your patio or driveway to last, concrete sealing in Burlington, KY is an essential step. Here at Liberty Power Wash, we are here to make that step a reality.
Which Kind of Concrete Sealing Is Best?
Concrete sealing in Burlington, KY is a necessary step to preserve the longevity of concrete slabs. Adding a sealant ensures that water and other moisture is prevented from seeping deep into the material and destroying it from within every time the temperature changes. If you want to protect your investment, do not hesitate to prioritize sealing your concrete. It can, however, be tricky to know which sealer is best. That's where we can help.
Concrete sealing is a nuanced process, and the exact execution depends on a lot of different factors. There is no one-size-fits-all sealer, and application is subtly different and specific to the type you prefer for your property. When you choose which one you prefer, consider the following: do you want your sealer to be invisible or make your concrete look perpetually wet? Do you prefer a concrete sealing job while the concrete is being mixed or applied after? Do you care if the sealer is water- or solvent-based?
These questions are wrapped up together. Acrylic sealers that are water-based give a drier, more natural look while solvent-based acrylic sealers have a darker, glossier, wetter appearance. Water-based sealers mix better with damp concrete while solvent-based sealers are often used after the concrete has dried. Many elect to use water-based sealers on interior concrete projects and solvent-based on outdoor slabs, but the choice is entirely a matter of preference. If you need a personalized professional eye to offer suggestions, give us a call.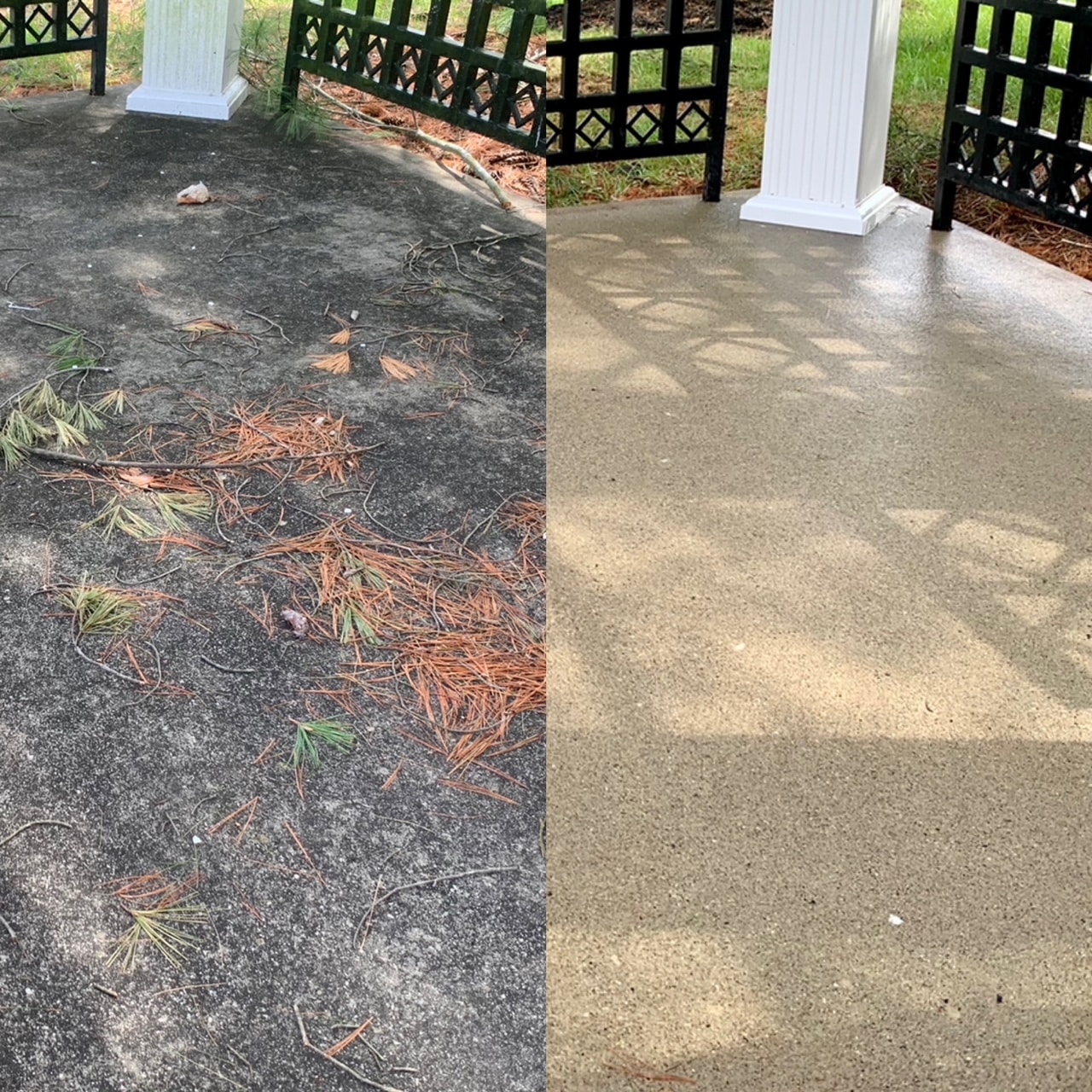 Concrete Sealing and More
Preserving the longevity and beauty of your property is important to us. That's why we offer more than just concrete sealing services. As our name implies, we offer premium power washing services to keep your property clean and environmentally safe. We offer comprehensive care.
Here are some of the other services we offer:
We can service both residential and commercial properties. Give us a call today for professional pressure washing or concrete sealing services for your property.
Service Areas
Blue Ash, OH;
Burlington, KY;
Cheviot, OH;
Covedale, OH;
Covington, KY;
Crescent Springs, KY;
Delshire, OH;
Florence, KY;
Fort Thomas, KY;
Hebron, KY;
Hyde Park, OH;
Independence, KY;
Kenwood, OH;
Liberty Township, OH;
Loveland, OH;
Madeira, OH;
Mason, OH;
Milford, OH;
Montgomery, OH;
North College Hill, OH;
Norwood, OH;
Reading, OH;
Richwood, KY;
Springdale, OH;
Union, KY;
Villa Hills, KY;
Walton, KY
Concrete Sealing in Burlington, KY
Burlington, KY is the county seat of Boone County. The population in 2020 was 18,203, and the census-designated place covers 8.8 square miles. Originally named Craigs Camp and then Wilmington, the area has a long history reflected in its layout and architecture. The Historic Burlington district is the site of the Burlington courthouse, built in 1889 and included on the National Register of Historic Places.
Burlington is split in half by Kentucky Route 18, making it easy to get around. The area has its own public library and three public schools, two elementaries and a middle school. For those with a penchant for being outside, Burlington has three parks: England Idlewild Park (with a mountain bike trailhead), Sperti Park, and Boone Woods Park. It is a great place to lay down roots.
Why Liberty Power Wash?
In a place like Burlington, KY especially, your home is a sanctuary. We honor the individuality of your space while helping it to last. Our concrete services are the gift that keeps on giving, making sure your concrete is ready for anything.