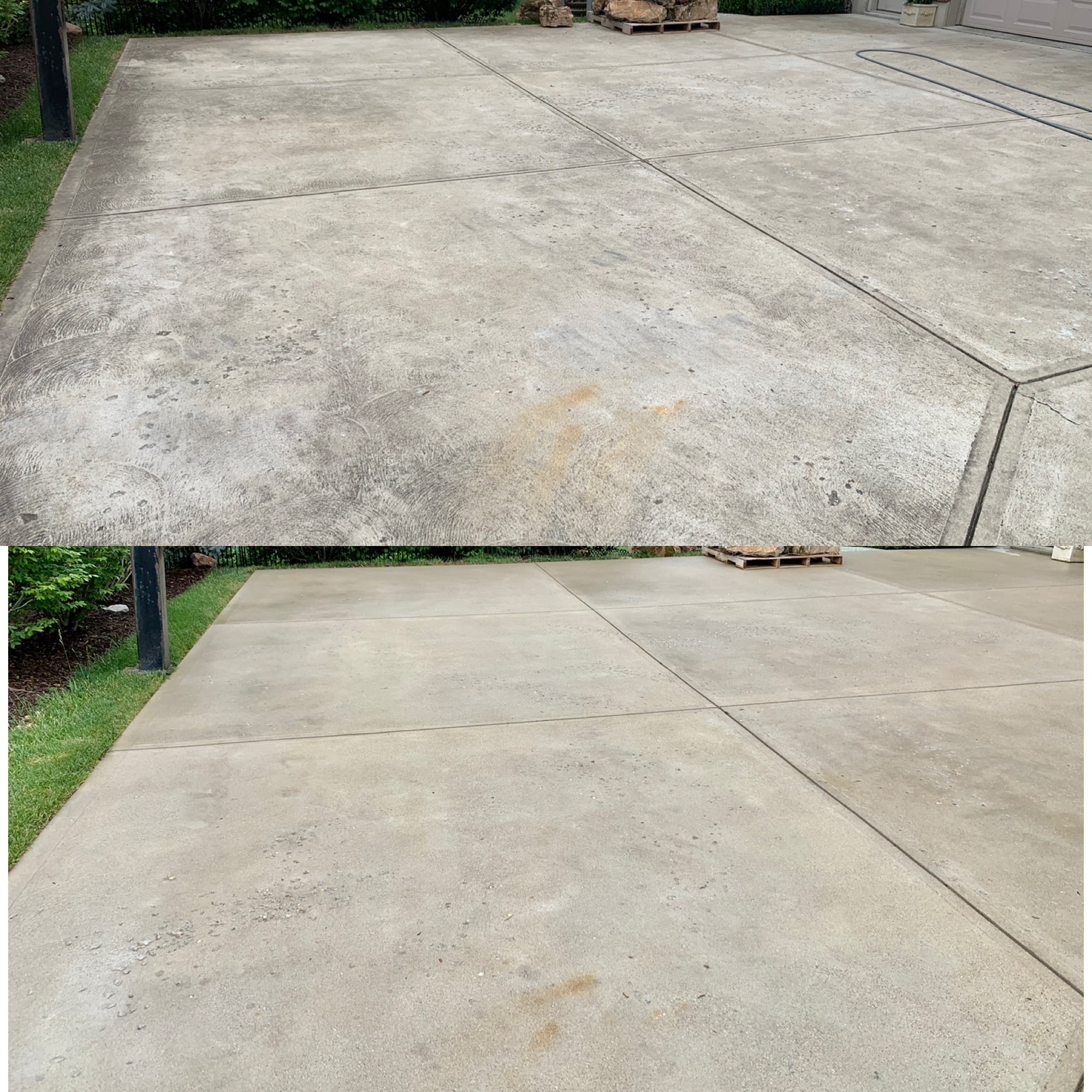 At Liberty Power Wash, we know that pressure washing a property is not enough to keep it spotless. That is why we provide first-class concrete sealing services to the Northern Kentucky area. For enduring results, concrete and other surfaces should be sealed to shield them from the elements. Sealing can preserve color by preventing staining and fading, and it can protect concrete from physical damage like chipping and fracturing. Our concrete sealing services block water and other liquids from absorbing into concrete slabs and pavers. This can lengthen their lifespan and keep your concrete looking as fresh as the day it was poured.
Concrete Sealing
Whether your concrete slab serves as an outdoor patio equipped with a basketball hoop and grill or as an interior dance studio that supports both pointe and tap shoes, that concrete should be sealed. Our Liberty Power Wash concrete sealing services protect against day-to-day wear and tear as well as harsher elemental damage. In addition to protecting your concrete, we want our concrete sealing services to add to the look and feel of your concrete. You can choose not only the type of coverage you want to have, but also the way the sealer looks on your concrete. Improve the durability and appearance of your property's concrete and let us know how Liberty's concrete sealing services can help you.
Concrete Driveway Sealing
Your driveway faces two big threats: the natural elements and the elements of your vehicle. Vehicles not only put repetitive pressure on the driveway; they also leak abrasive fluids like oil, grease, and battery acid which can erode concrete. The concrete sealing services offered at Liberty Power Wash help to prevent such fluids from contacting the actual concrete, and to strengthen the material to better withstand pressure. Concrete sealing services are also essential in northern Kentucky because water can do great damage to unsealed concrete. Sealing concrete driveways protects them from cracking because of expanding and contracting water. It also prevents lichen, bacteria, algae, and mold from forming a hold on concrete driveways, reducing the risk of biological erosion and staining.
Paver Sealing
The kindest thing you can do for your pavers is to seal them. When it comes to protecting your pavers, we offer concrete sealing services for concrete pavers as well as sealing for other materials like brick and natural stone. Sealing your pavers protects them from staining and environmental damage. Pavers tend to be very dense, and water that does not absorb into the surface can become a breeding ground for bacteria. However, pavers that are sealed correctly do not offer proper perch for microscopic interlopers, which helps to limit staining and makes your pavers safe for those who tread on them. After you have your pavers cleaned, have them sealed right away. We offer both cleaning and sealing services for pavers and are happy to help you freshen up your landscaping.
Roof Rejuvenation
In addition to our concrete sealing services, Liberty Power Wash provides premium roof rejuvenation care. Your roof has to deal with enough pressure throughout the day, so we will never use pressure washing on it, no matter what material it is made of. Pressure washing destroys asphalt shingles and can cause pressurized water to blow up under the roof and into a property's attic and insulation. To avoid rot and other water damage, we use a soft washing method recommended by the American Roofing Association. Soft washing provides an efficient clean while preserving the integrity of your roof. Let our team take care of revitalizing your roof in a way that is safe for you and your property. Contact Liberty Power Wash in Walton, KY for sealing services for your home today!