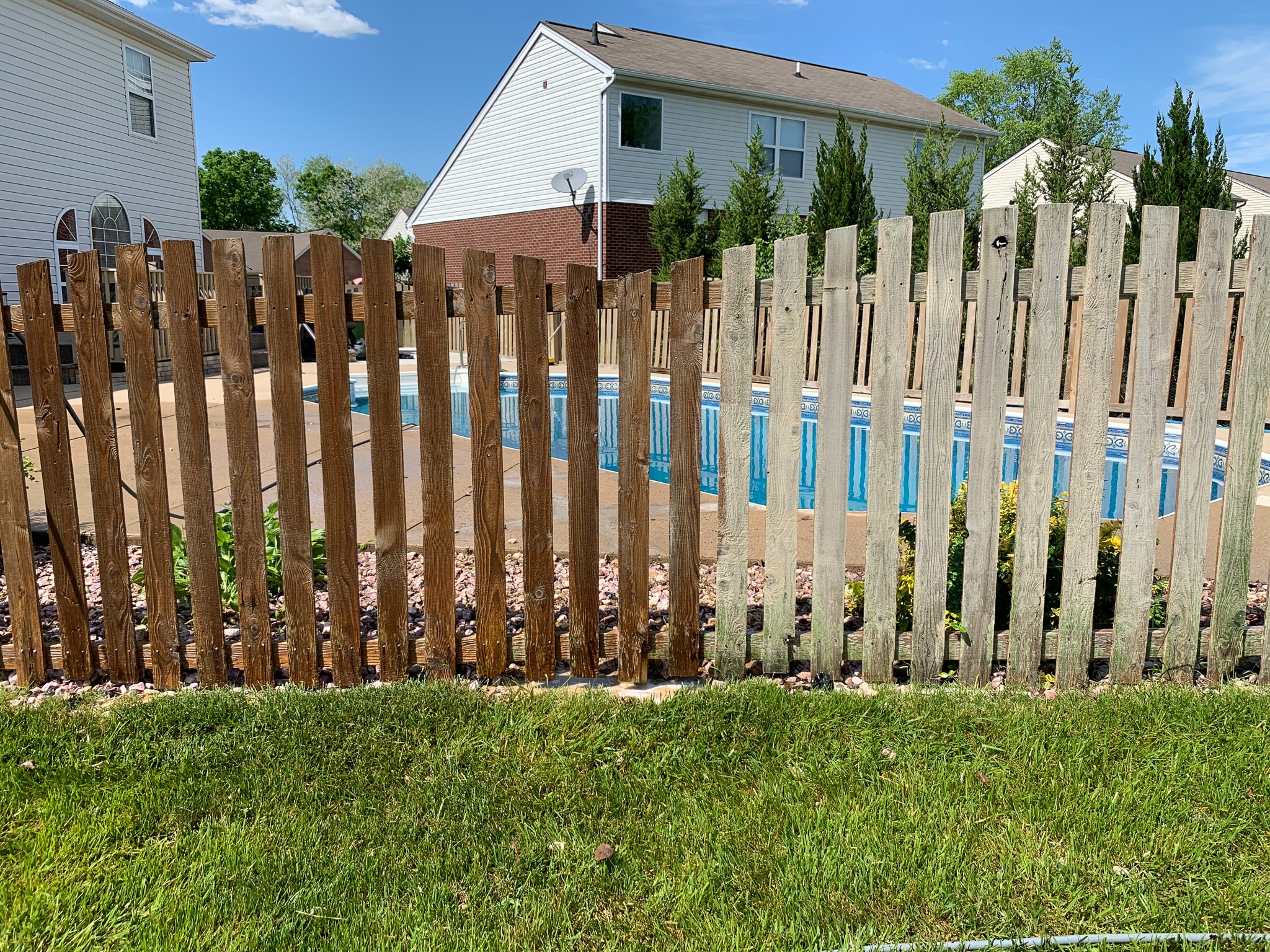 Fence Cleaning
Fences are an essential element to protect the privacy of your property. They serve as the outdoor equivalent to curtains over windows. Fences can be made from a plethora of different materials, and the elemental attackers of fences are just as diverse. Wood is more prone to biological aggressors like algae and mildew, but time and grime are unkind to any fencing material.
Regular fence cleaning will extend the longevity of your fence. A fence should also always be cleaned before it is stained or restained to make sure the stain takes hold evenly and permanently. Before starting on fence cleaning, it is important to identify the source of any unsightly staining. Is discoloration caused by dirt, mold and mildew, water stains, algae, or something else? Knowing what coats your fence will determine the proper cleaning methods, and our team will be able to determine exactly what is making your fence dirty.
Our professionals at Liberty Power Wash also have the know-how when it comes to the correct cleaners, brushes, and power wash settings for your fence. Rough scrubbing and too much pressure can remove paint from wooden or metal fences, and the wrong detergents can eat away at the fence itself just as easily as lichen can. Let us assess your fence and pull from our extensive experience to properly manage your fence cleaning. We have the correct fan tips for our pressure washers to moderate the spray so the fence does not get damaged, and we have hours of practice behind us to make sure we don't miss a spot.
Restore Your Fence's Beauty
As a homeowner, we know you have your hands full when it comes to errands, home maintenance, and other items that demand your attention. You likely don't have the time, energy, or proper tools to take care of cleaning your fence, nor should you have to. After all, proper fence cleaning can be a difficult and time-consuming task. Why not leave the hard work to professionals with the right tools and equipment?
If you let our northern Kentucky-based service take care of your fence cleaning, you can devote your weekends to the kind of activities you choose, not one more tedious chore. Hiring out fence cleaning services will also save you time and money because we already have all the equipment we need and training to ensure that the job is done right the first time. Our team is comfortable working with fences of all kinds, so there's no risk of chipping the paint or damaging the wood or iron of your fence. Reach out to our team today to schedule your northern Kentucky fence cleaning service.
Quality Fence Cleaning Services
Don't let a filthy fence speak for the rest of your northern Kentucky property. Instead, opt for professional fence cleaning. Hundreds of customers have depended on Liberty Power Wash for their thorough fence cleaning needs, and you can too. No matter your fence's material, height, or length, you can trust our team to clean away built-up grime and leave you with flawless fencing that makes you feel fabulous.
Liberty Power Wash has provided quality fence pressure washing care for years, and our experience speaks for itself. Our goal is complete customer satisfaction. We know each fence is different from the customers who own them, so our dedicated team treats every fence we service with the care and respect we give our patrons. You can rest easy knowing you'll never have to worry about your fence's condition if you hire Liberty Power Wash for your fence cleaning needs in northern Kentucky.