Concrete Sealing in Hebron, KY
Concrete sealing, in terms of extending the lifespan of driveways and patios, is not a want—it's a need. As most concrete slabs are outside, they take the brunt of change in the weather, including fluctuations in temperature and the ebb and flow of precipitation. Concrete sealing provides a protective barrier between your concrete and the elements, prolonging the material's efficacy and durability.
The Perfect Concrete Sealer for You
There is not one definitive concrete sealer that contractors slap on and call good. You have options for when the concrete is applied, how it looks, any additional compounds you want to include, and the coverage offered. Coverage is determined by when the sealer is added. There are three choices: topical, integral, and penetrating.
Topical sealer is applied only after the poured concrete has completely cured, which may take up to a month in humid or cold climates. Penetrating sealer is combined with concrete as it is mixed, so they are applied simultaneously. If you want to add pigmentation to your concrete, consult with a member of our Liberty Power Wash team on the best kind of sealer and when it should be applied.
Water-based concrete sealers are usually applied when concrete is wet, and they maintain a dry appearance. Solvent-based sealers, on the other hand, go on after a concrete slab has dried, and they make a concrete driveway or patio look perpetually wet. The darker and slicker appearance is appealing to many for exterior concrete sealing jobs.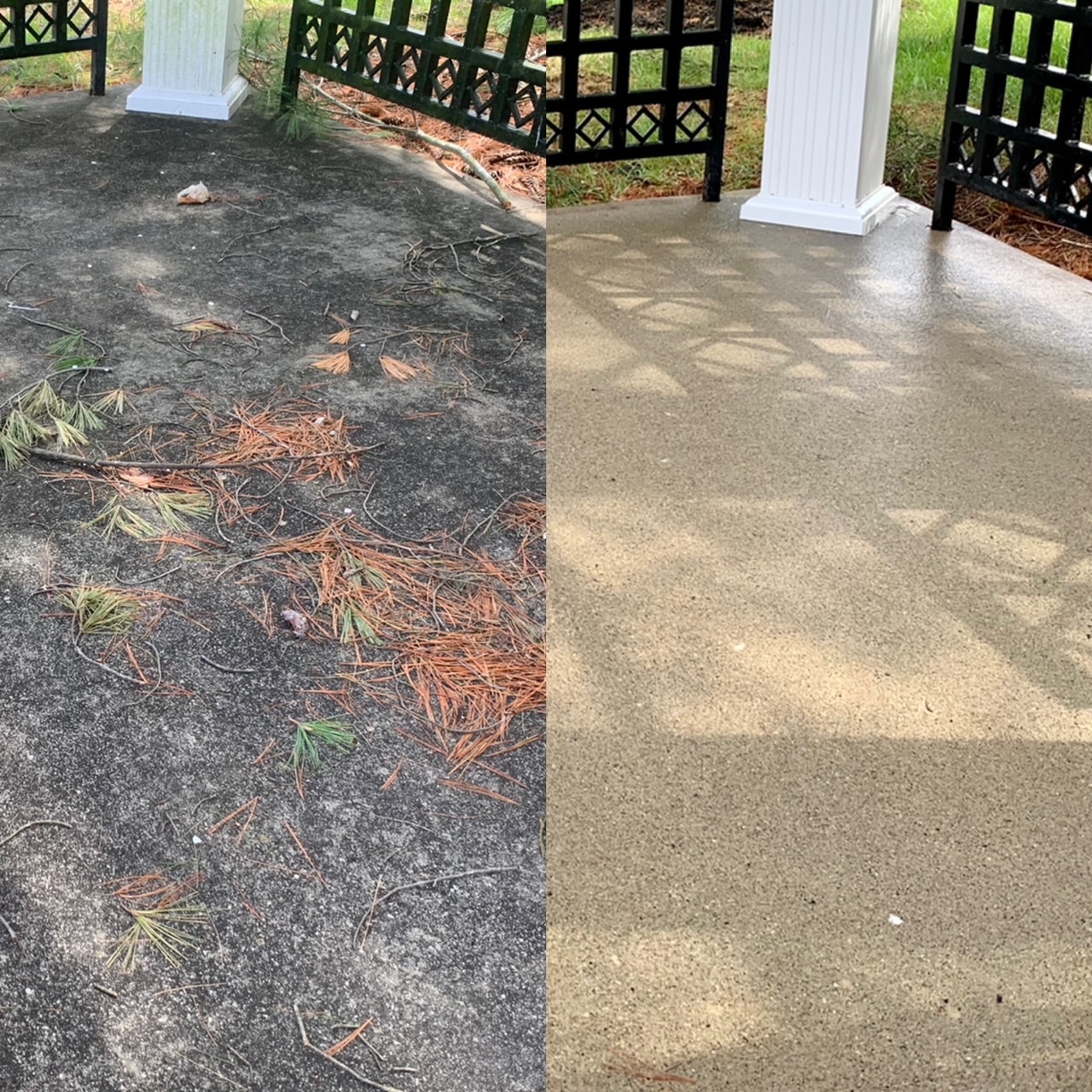 More Than a Concrete Sealing Service
At Liberty Power Wash, we know that concrete sealing in Hebron, KY is not the only option for maintaining a lasting appearance and quality on your property. In fact, if you are sealing after concrete is cured or need to reseal your slab, it is important to clean the concrete first. We make it easy by offering both services for our Hebron-based customers.
But why stop at concrete? We are Liberty Power Wash, after all. Here are some of the other services we offer:
We can service both residential and commercial properties. Give us a call today for professional pressure washing or concrete sealing services for your property.
Service Areas
Blue Ash, OH;
Burlington, KY;
Cheviot, OH;
Covedale, OH;
Covington, KY;
Crescent Springs, KY;
Delshire, OH;
Florence, KY;
Fort Thomas, KY;
Hebron, KY;
Hyde Park, OH;
Independence, KY;
Kenwood, OH;
Liberty Township, OH;
Loveland, OH;
Madeira, OH;
Mason, OH;
Milford, OH;
Montgomery, OH;
North College Hill, OH;
Norwood, OH;
Reading, OH;
Richwood, KY;
Springdale, OH;
Union, KY;
Villa Hills, KY;
Walton, KY
Concrete Sealing in Hebron, KY
16 miles from Cincinnati and from Walton-based Liberty Power Wash, Hebron, KY is a small town on the western edge of the Cincinnati–Covington suburbs. It was named for the city of Hebron in the Bible and in 2020 had a population of 5,752. Transportation is not a problem: Interstate 275 forms the northern border, and the town is split down the middle by Kentucky Route 237. The heart of the area is the intersection of Kentucky Routes 237 and 20. Bus services run throughout the area.
Hebron is the site of the Cincinnati/Northern Kentucky International Airport. Amazon has a regional fulfillment center in the area, as does Wayfair furniture. The town still runs two newspapers, daily editions of The Kentucky Enquirer and weekly copies of The Boone County Recorder. Visitors can see several buildings on the National Register of Historic Places, though locals may be more mindful of the progress of local Conner High School.
Why Liberty Power Wash?
Your property is an investment, probably one of the most valuable assets you have. We know you're committed to its care, and we are too. From our impressive concrete sealing services to our premier power washing treatments, our Liberty team is here to make sure you are satisfied with the cleanliness and durability of your space. Give us a call today to get started.