Concrete Sealing in Montgomery, OH
Concrete is an industrially strong material that shows up in many areas of a property. Driveways, sidewalks, pavers, and patios bring functional and visual appeal, but they should be sealed to protect them from the elements. At Liberty Power Wash, we provide professional services for concrete sealing in Montgomery, OH so residents of the area can rest easy knowing that their concrete is going to last.
What Is Concrete Sealing?
Because concrete is constantly exposed to environmental conditions and the kind of mechanical damage caused by heavy foot traffic or vehicular pressure, the enduring material doesn't usually get a lot of slack. Concrete is made of a mixture of water, cement, and an aggregate of stone particles. This composition makes the material naturally porous and therefore susceptible to water damage from the inside. 
Concrete sealing in Montgomery, OH protects the material by laying down a protective layer on the concrete's surface. This acts as a physical barrier, keeping out water that would otherwise seep into the material's pores and expand and contract with every temperature-based freeze-thaw cycle. In this way, concrete sealing minimizes the risk of cracking and splitting.
Concrete sealing also slows the course of other damage, such as dusting. Over time, the top layer of concrete gradually wears down under all the contact it receives, and a fine powder is formed. This can irritate the respiratory system and exacerbate conditions like asthma. Sealing your concrete not only keeps that top concrete layer contained, it serves as a buffer to slow the dusting process in the first place.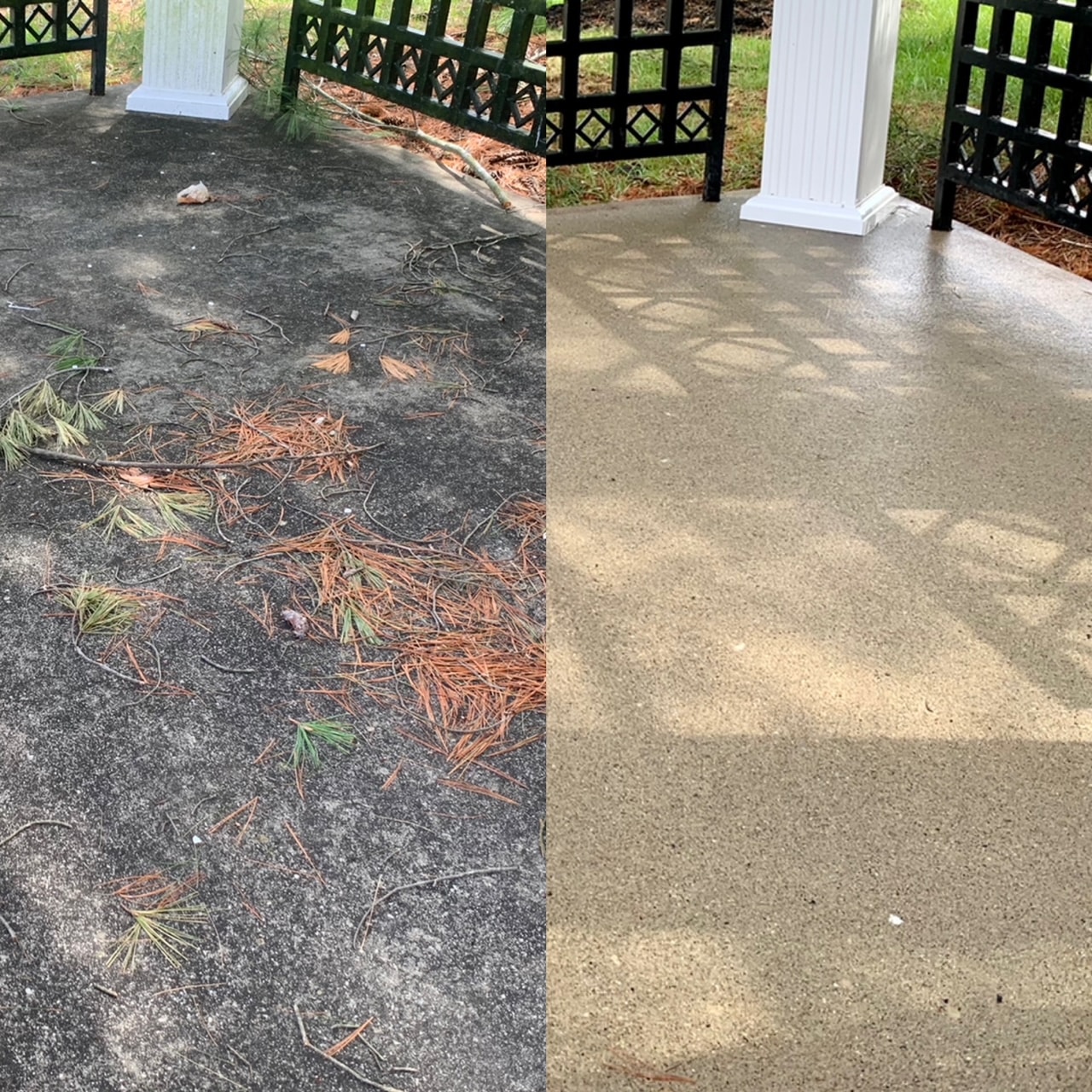 A Few Other Surprises
At Liberty Power Wash, we don't just handle concrete sealing in Montgomery, OH. After all, concrete must be cleaned before it is sealed to ensure an even coating that doesn't trap in mildew and mold. When you give us a call, we can handle the entire process, cleaning to sealing, at no additional inconvenience to you. 
Here are some of the other services we offer:
We can service both residential and commercial properties. Give us a call today for professional pressure washing or sealing services for your property.
Service Areas
Blue Ash, OH;
Burlington, KY;
Cheviot, OH;
Covedale, OH;
Covington, KY;
Crescent Springs, KY;
Delshire, OH;
Florence, KY;
Fort Thomas, KY;
Hebron, KY;
Hyde Park, OH;
Independence, KY;
Kenwood, OH;
Liberty Township, OH;
Loveland, OH;
Madeira, OH;
Mason, OH;
Milford, OH;
Montgomery, OH;
North College Hill, OH;
Norwood, OH;
Reading, OH;
Richwood, KY;
Springdale, OH;
Union, KY;
Villa Hills, KY;
Walton, KY
Concrete Sealing in Montgomery, OH
Montgomery, Ohio, in Hamilton County, has been an Ohio staple since it was settled in 1795. Readily accessed by Interstates 71 and 275, Montgomery sits a mere five miles northeast of the Cincinnati city line. Though initially a small town, it saw a period of explosive growth in the 1960s as folks settled just outside of Cincinnati. As of 2021, Montgomery's population was 10,804, and Liberty Power Wash, 35 miles away, is happy to serve them.
Montgomery serves as a bedroom community for closeby Cincinnati, but even those who love the nearness of the big city appreciate Montgomery's historic roots, still available to be appreciated in the 19th-century architecture and historic downtown. The Loveland Castle Museum is a nearby tourist attraction, a museum built in the style of a Medieval castle in the 1920s on the banks of the Little Miami River.
Why Liberty Power Wash?
When it comes to concrete sealing in Montgomery, OH, you need the job to be done correctly. That's the only way to keep moisture and mechanical forces from damaging your driveways and sidewalks. That's where Liberty Power Wash comes into play. We know your property represents a big investment, and we want to help you preserve your assets and strengthen the place you call home. When you need your concrete sealed, give us a call to take care of it.