What is pressure washing? Pressure washing is an invaluable tool designed to clean off grime, dirt, mold, and mildew and brighten driveways, walls, and gutters. While anyone can rent a pressure washer and start spraying, it could lead to serious property damage. We recommend contacting our pressure washing company in Kentucky to reduce the risk of property damage, (859) 493-2664.
How Pressure Washing Works
Pressure washing uses a narrow, high-powered jet to blast away dirt, grime, mold, and more. The water exiting the pressure washer travels at a high rate of speed, usually 1500-3000 pounds per square inch (PSI). With this amount of high-pressured force, water is able to clean away stains, dirt, grime, grease, and more. However, it is important to note that using the wrong type of pressure washer on the wrong surface can lead to damage. This is why we recommend contacting our Walton, KY, pressure washing company to discuss the surface you need to be cleaned prior to trying it on your own and risk damaging your property.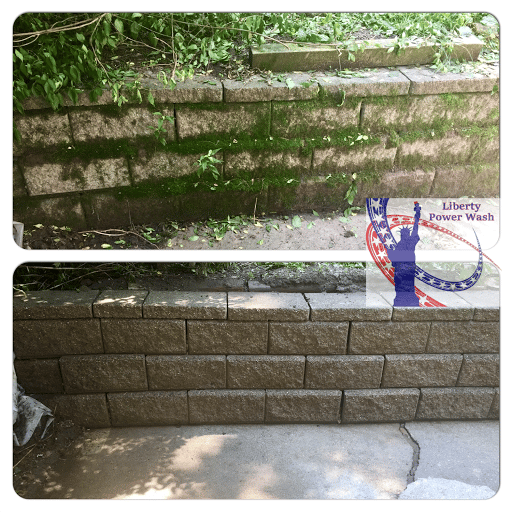 Do It Yourself Pressure Washing?
It may be tempting to take on your pressure washing if you are a do-it-yourself kind. If you do, make sure you examine all the facts:
Safety First – Pressure washing means you need to focus on safety first! We are often called out to a job to help fix problems from previous pressure washers. Whether you have rented your own or you hired someone else, we are here to help. It is essential to wear the correct safety equipment to prevent severe damage to yourself and your property. We always recommend anyone using pressure washers should wear the right protective equipment. In addition to your safety, pressure washing requires protection in other areas. Electricity and water DO NOT MIX! It is essential to cover electrical equipment, connections, and outlets when dealing with pressure washing.
Tools and Equipment – Do you have the necessary tools and equipment to do the job? Choosing the right pressure washer for the type of job you are performing is critical. For example, pressure washing a roof with the wrong nozzle and spray settings can cause shingles to be ripped from the roof and can lead to attic leaks. For this reason alone, we recommend calling our experts for roof pressure washing.
What to wash – If you have stains on the driveway and you think hitting it with a pressure washer alone will work, think again! Depending upon the origin of the stain, we may need to use our specialty cleaning formula to loosen the oil, grease, or dirt before washing it with the power washer. We cannot stress enough how careful you need to be if you are renting pressure washing equipment, as far too many homeowners end up damaging window screens, shingles, siding, fencing, and more.
Why Hire Pressure Washing Experts in Kentucky?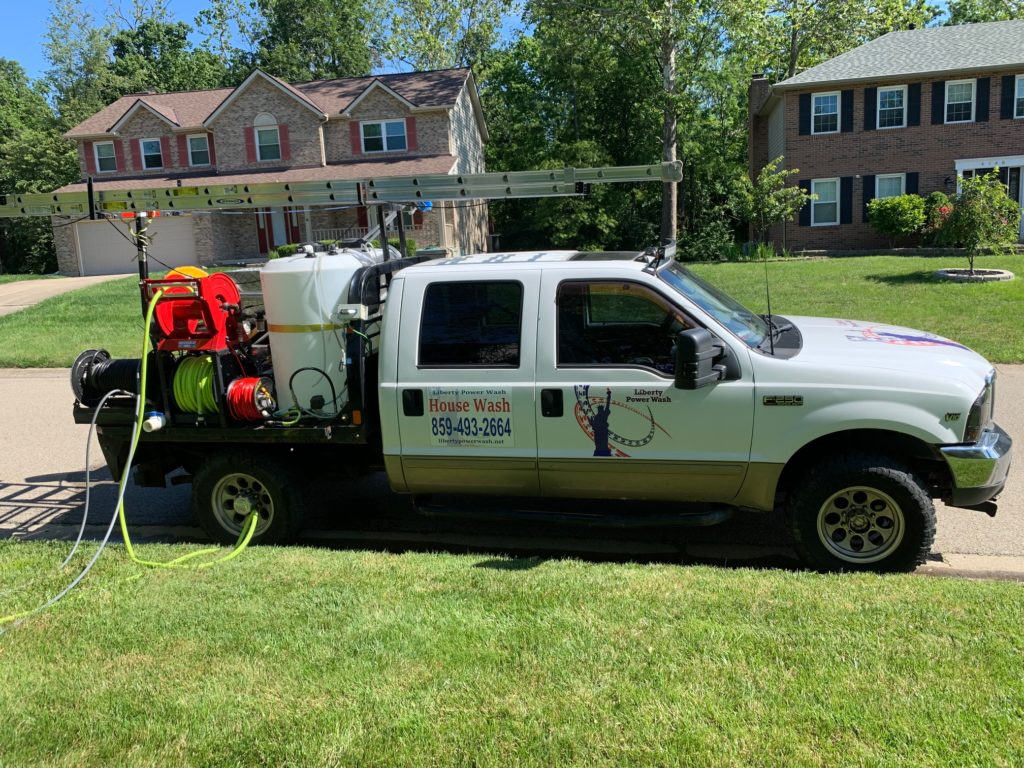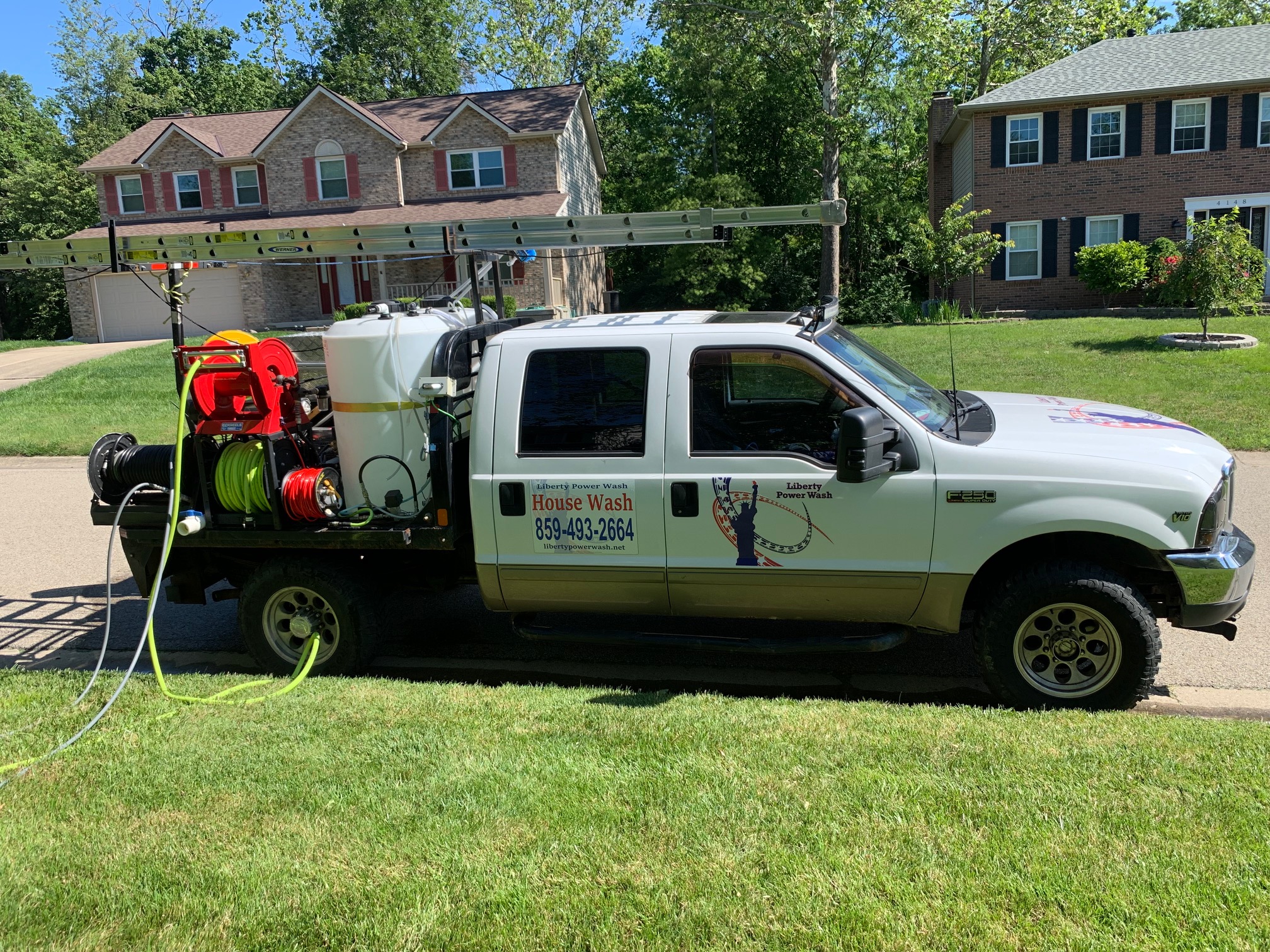 Pressure washing is a careful process that requires correct training, tools, and experience. If you have an unsightly driveway, pavers covered in mold, or you want to give your home a facelift, call Liberty Power Wash in Walton, KY. Our expert team focuses on providing high-quality service and guarantee you will love the results of our work.
We have the tools, training, and equipment needed to do the job correctly. Our expert team carefully works on your home and surrounding property to prevent damage and restore your home or yard. We have multiple nozzles, hoses, and PSI-rated equipment to ensure that each job we take on will be done to the best level of perfection.
At Liberty Power Wash, we are here to make your pressure washing projects as successful and painless as possible.
Contact us today with any questions or to schedule an appointment.