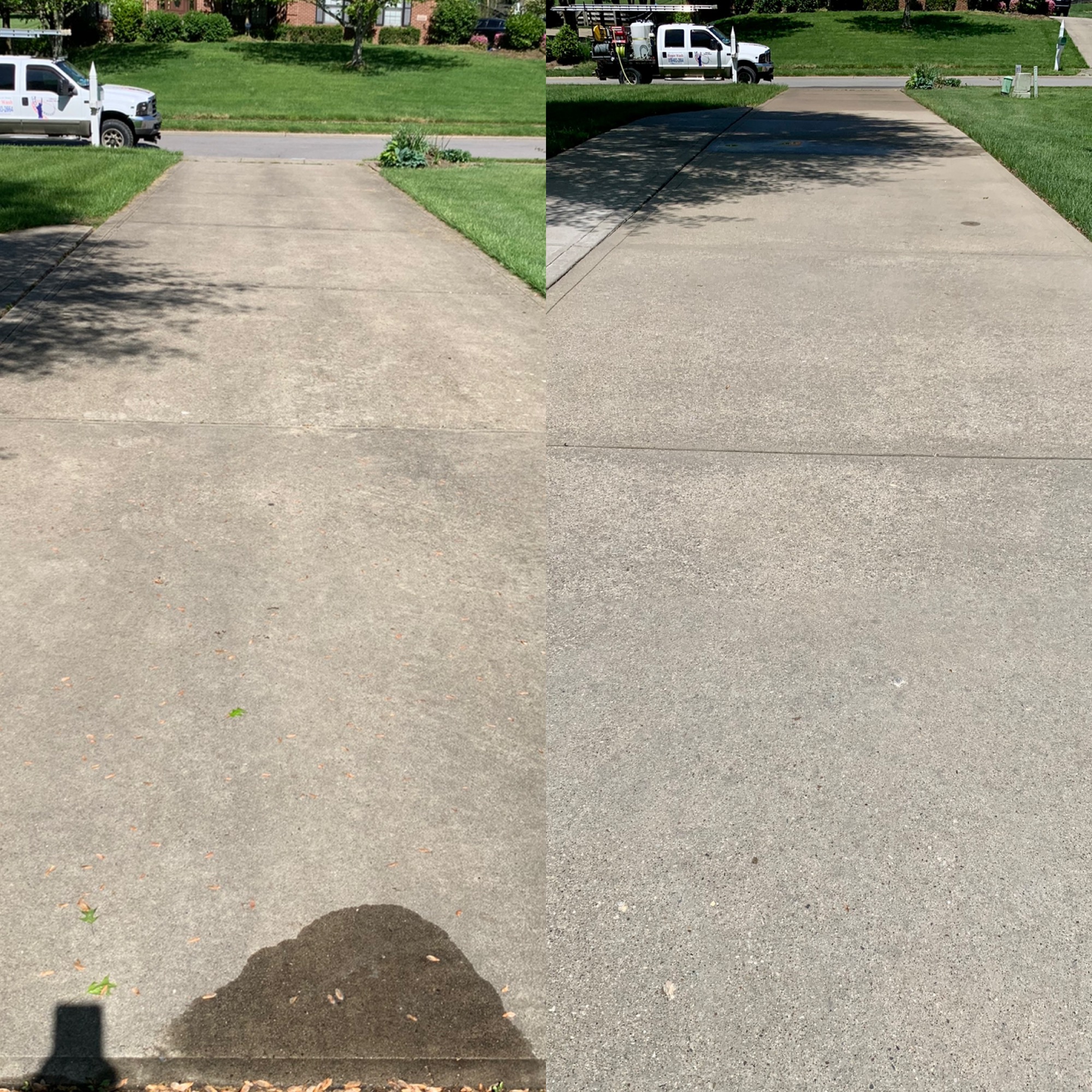 Driveway Cleaning
It's no secret that you never get a second chance at a first impression, and your driveway should help, not hinder, the first impression of your property. The driveway is one of the first things people see, even if they never come specifically to your home. An easy space to overlook in the midst of more pressing chores, driveway cleaning is nevertheless essential to having a driveway that speaks to the care you give the rest of your property.
The texturing of concrete makes it easy for dirt and grime to build up on the surface, and its slightly porous nature leaves it vulnerable to staining. Stains from oil, biological growth, and even water can lower the visible appeal and even the safety of your property's driveway. The good news is that it doesn't have to. Look no further than Liberty Power Wash for quality driveway cleaning services that will revitalize and prolong the lifespan of your driveway.
Keeping Safe an Underappreciated Space
Driveway cleaning is one of the best ways to be mindful of your own health and the health of your family. It is difficult to track just how much time visitors and members of a household spend on the driveway because it is a liminal space, but it is likely that you spend more time there than you think. Thorough driveway cleaning can make your drive a safe place for people to gather or children to play.
Fluids from cars not only leave unsightly stains but can also be dangerous. Antifreeze is fatal if ingested, so if you have a spill, take care of the driveway cleaning immediately, especially if you have small children or pets. Other chemicals like oil, battery acid, fertilizer, and paint leave hard stains. While correct and prompt removal of these can help mitigate staining, pressure washing can work wonders for both old and new stains.
Maintenance of your driveway can also prevent mold and algae that can be harmful. Microscopic growth thrives in the rough crags of concrete slabs, but pressure washing can get into the smallest crevices to remove it. If you ever barbeque or eat out on the driveway, you may also have to contend with evidence of grease, soda, and gum. This is especially true if your property is a business. People sometimes act like concrete is indestructible, but just like all surfaces it has its limits. Don't just let your driveway take the abuse. Treat it to a premiere driveway cleaning service and free it from dirt, fertilizer, salt, and oil.
Reliable Quality Driveway Cleaning Services
While degreasers that break down oils and other harmful staining solvents are available for at-home driveway cleaning, such chemicals can be dangerous and should only be used while wearing gloves and protecting the eyes. Even with these precautions, contracting a professional driveway cleaning service is the best way to make sure the process is safe and efficient. There is nothing so frustrating as buying all the tools and chemicals to clean a driveway and spending the time to do it yourself only for the stains to still be there when the driveway dries.
You have better things to do than clean your driveway. At Liberty Power Wash, we specialize in cleaning concrete, and driveways make up a big part of that experience. Our Liberty team has access to the proper detergents and hardware to ensure you get what you pay for, and we never miss a spot. Our driveway cleaning service uses the perfect combination of soaps, pressure, and experience to remove rust, stains, and grime and restore the original quality of your sidewalks and driveways. Contact Liberty Power Wash in Walton, KY for your driveway cleaning services and more today!