Is there anything more magical than driving through the neighborhood as the weather turns chill, hot chocolate in hand, and seeing all the houses alight with festive bulbs? At Liberty Power Wash, we are eager to start our holiday lighting installation, but we know that a preliminary service is necessary. Gutter and soffit cleaning should be taken care of before we install your holiday lights.
There are a few reasons behind this. The first is that your gutters and soffit should be cleaned regularly, especially before the snow begins to fly. Most professionals recommend that thorough gutter and soffit cleaning be taken care of annually. Because gutters protect your home from excessive precipitation and water runoff, regular cleaning helps protect your property from ice damming and other water damage. Besides, if the features of your roof are properly cleaned, the installation of holiday lighting is more effective and lasting.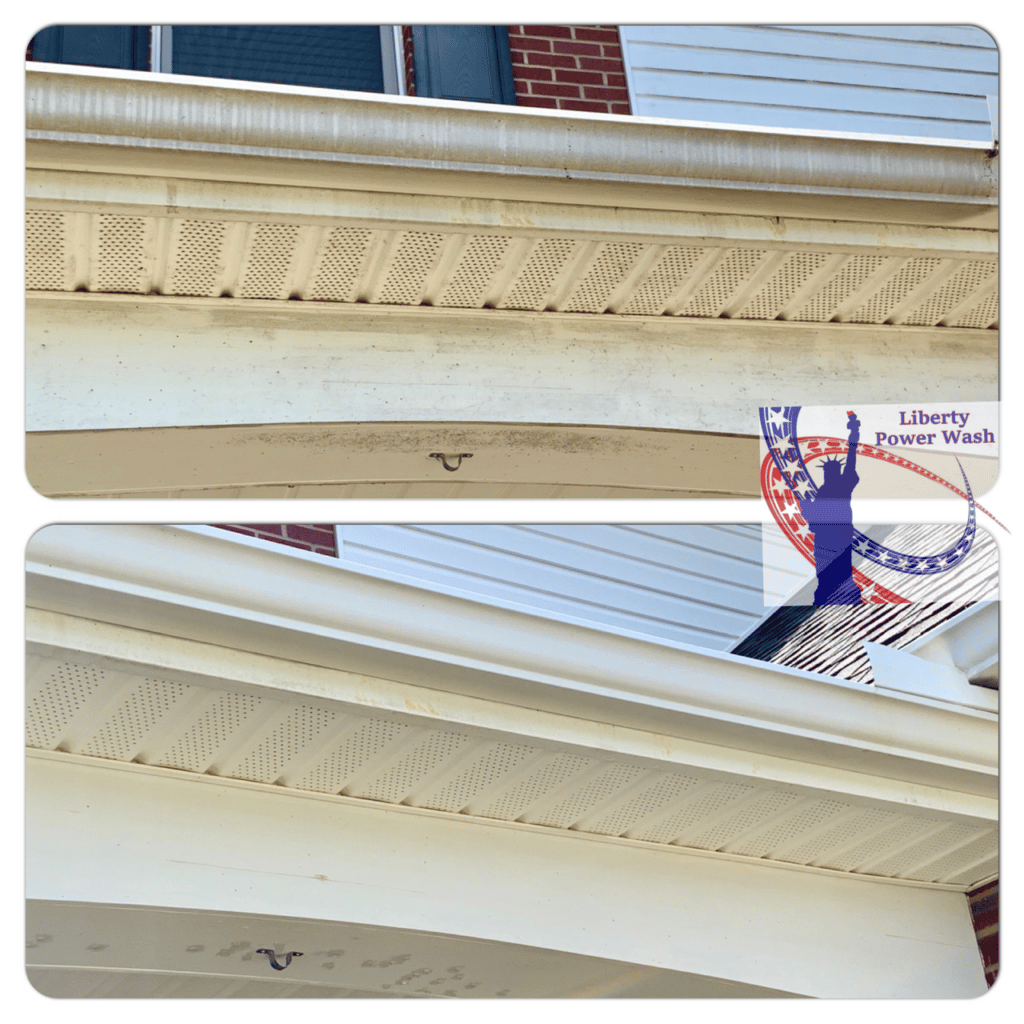 What Is a Soffit?
Most people know that the shallow troughs installed on their roofs' edge are called gutters and are designed to carry off rainwater, but the term "soffit" is generally less familiar. It refers to the material on the underside of a roof overhang. Soffits can be solid, though they are often vented to allow for air circulation in the attic.
The term fascia is also a good one to know. It describes the board that circumscribes the edge of projecting eaves. Cleaning the fascia, soffit, and gutters makes a tremendous difference in a roof's appearance. This in and of itself is a great reason to make gutter and soffit cleaning a priority, but it is not the most important reason by a long shot.
The Dangers of Dirty Roofs
No one likes to see their gutters full of leaves and twigs. Clogged gutters are unattractive, but that is not their worst feature. The whole point of a gutter is to direct water into the downspout for proper drainage. Clogged gutters cannot do so. They are prone to overflow, drenching flower beds and foundations below, or even to leak, ruining the siding and walls of the home.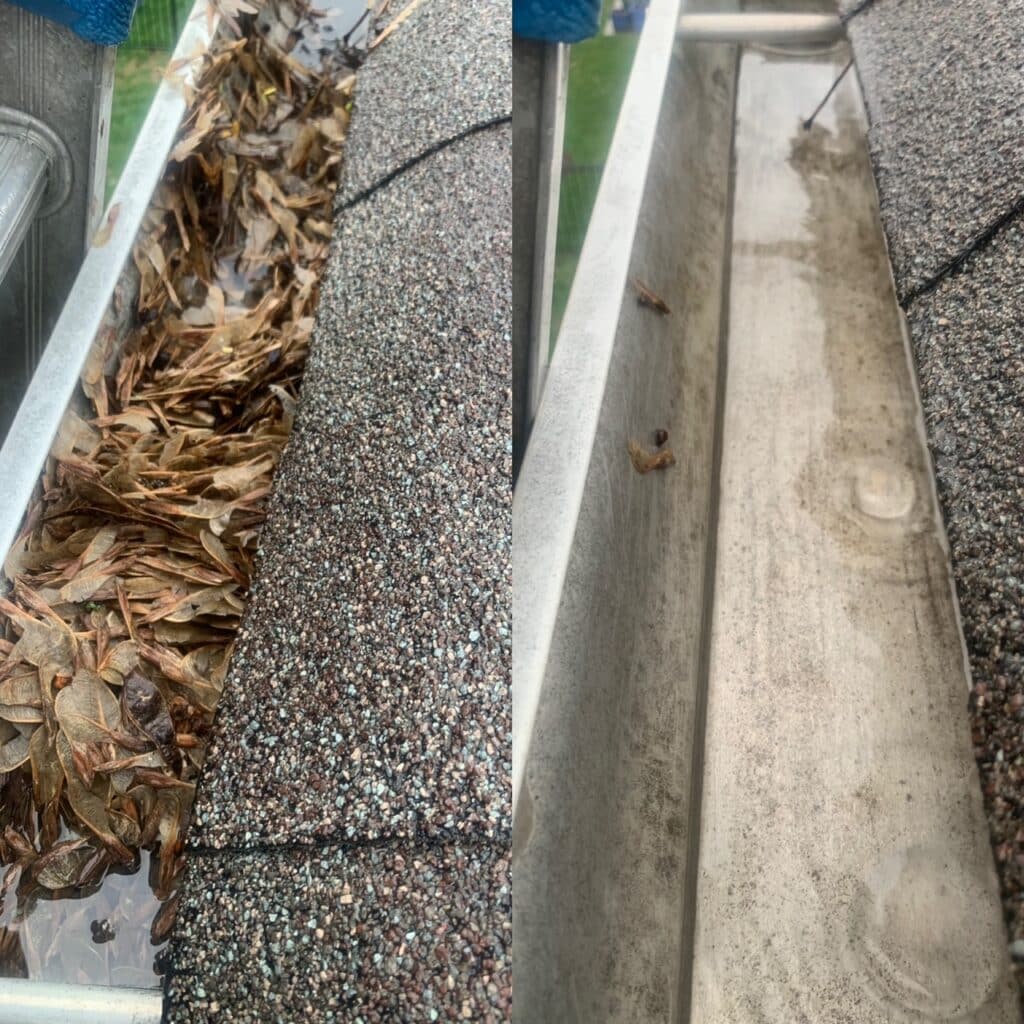 Clogged gutters also retain moisture, and this can have two primary ill effects. If the ambient air is cold enough, that water will freeze, making the gutter too heavy for its supports, causing it to break away from the house. If temperatures are above freezing, the trapped water can foster microbial growth, which can ruin a roof and cause health problems to occupants of the home.
It is clearly very important to clean out your gutters at least twice a year, especially if you live in a place like northern Kentucky where the foliage is abundant. While freeing gutters from debris is not always an easy or safe task, Liberty Power Wash offers professional gutter cleaning services to save you the hassle.
Prepare Your Gutters for Holiday Lighting
Before strings of white, red, and green can be attached to your home in fun patterns and designs, the canvas must be clean. Unfortunately the textured surfaces of soffit and gutter high overhead makes them difficult targets for cleaning, but if you want your home to look well-kept, you must make gutter and soffit cleaning a priority.
There are many tools to accomplish the task. A regular broom often works well to brush away obvious debris like cobwebs. At Liberty Power Wash, we use long poles and brushes to make soffit and fascia alike sparkle like new. Even a pressure washer may be used to blast away leaves and grime, though it is very important to use a customized soft-wash treatment so you don't have to worry about shingle damage or water getting underneath the room or walls.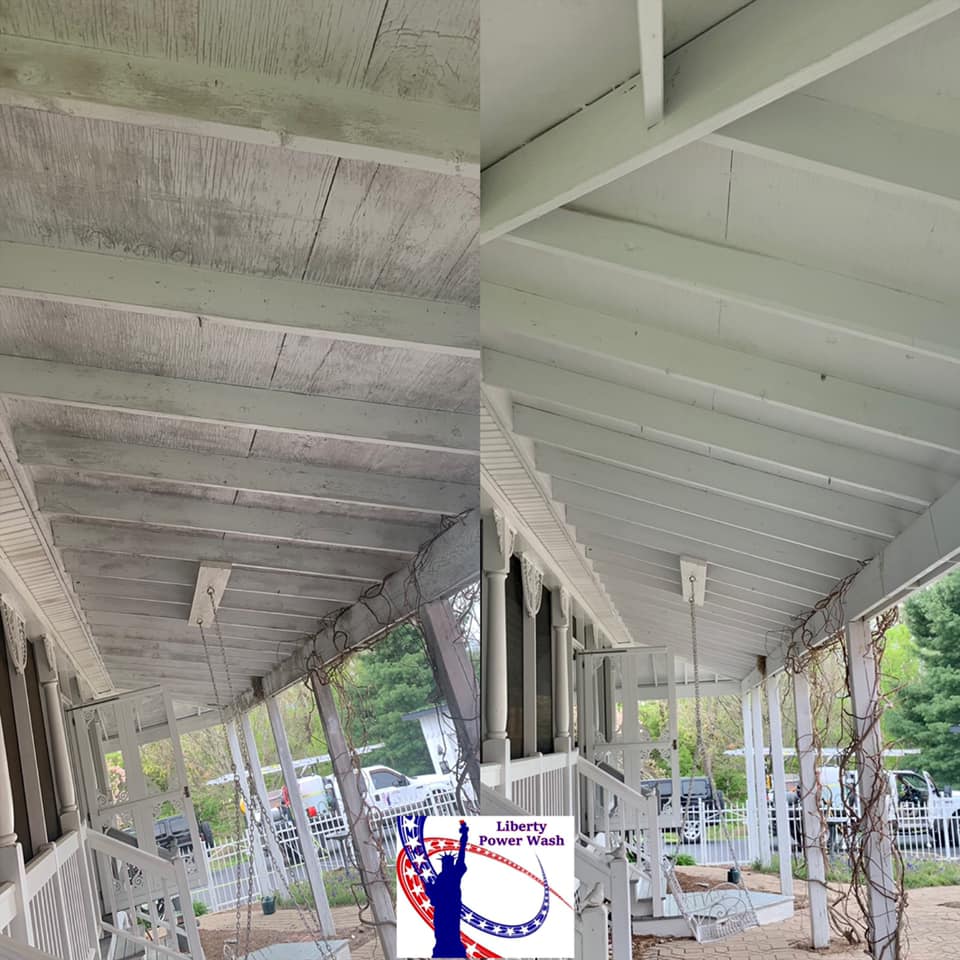 If you choose to take care of your gutter and soffit cleaning yourself, remember to use deliberate ladder safety. Especially as the weather turns bitter, use wisdom and discretion near and on your ladder. If, however, you want to avoid tedious and dangerous (and cold) time spent on a ladder or roof, let Liberty Power Wash do it for you. The services we offer are really a package deal, since once your gutters are clear and your soffits are clean, Liberty Power Wash can begin installing your holiday lighting.
Professional Gutter and Soffit Cleaning with Liberty Power Wash
A clean home is a happy home, and a happy homeowner to boot. It isn't easy to keep a home looking spotless and new, and often other household chores get in the way. Despite that, we know you take pride in your property, and that's why Liberty Power Wash offers the best services of our kind in northern Kentucky. Let us manage your gutter and soffit cleaning this season so you can enjoy the holiday magic without worry.